Explicit by Cassie Verano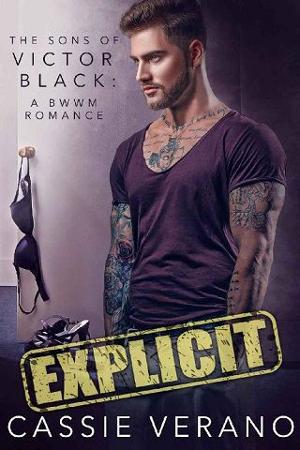 He's one of the heirs to the Black Hospitality Group billionaire fortune.
Mitch Black is entitled. He's an arrogant asshole.
He's my new employee. And he's a bad boy.
I'm used to bad boys and I know to evade them every chance I get.
But no matter where I turn, Mitch is around every corner waiting for me.
As the Chief Human Resources Officer, I'm determined to prevent sexual harassment.
She's the CHRO of my family's company. And she's my new boss.
Professional. Stuck up. Prude. That's Blake Phoenix.
She's determined to make me into the model employee.
I'm determined to just get her into my bed for one night.
One night and Blake Phoenix won't be the same woman.
I get my wish. One run-in. One kiss. One taste.
Now, I'm hooked, and I want more than just a one-night stand.
Blake's erecting barriers. But I know a secret that she doesn't.
One taste of me, and she can't forget my rules.
I don't do professional. But I do explicit so damned good.
But just when she starts to trust me, all hell breaks loose.
File Name:explicit-by-cassie-verano.epub
Original Title:Explicit: The Sons of Victor Black: A BWWM Romance
Creator:

Cassie Verano

Language:en
Identifier:MOBI-ASIN:B084JFCMB1
Publisher:

Chelle Ramsey

Date:2020-02-04T16:00:00+00:00
File Size:275.639 KB
Table of Content
1. CHAPTER 1 – MITCH
2. CHAPTER 2 – BLAKE
3. CHAPTER 3 – MITCH
4. CHAPTER 4 – BLAKE
5. CHAPTER 5 – MITCH
6. CHAPTER 6 – BLAKE
7. CHAPTER 7 – MITCH
8. CHAPTER 8 – BLAKE
9. CHAPTER 9 – MITCH
10. CHAPTER 10 – BLAKE (Sunday)
11. CHAPTER 11 – MITCH (Monday)
12. CHAPTER 12 – BLAKE
13. CHAPTER 13 – MITCH
14. CHAPTER 14 – BLAKE
15. CHAPTER 15 – MITCH (Tuesday)
16. CHAPTER 16 – BLAKE
17. CHAPTER 17 – MITCH (Wednesday)
18. CHAPTER 18 – BLAKE
19. CHAPTER 19 – MITCH (2 Months Later)
20. CHAPTER 20 – BLAKE
21. CHAPTER 21 – MITCH
22. CHAPTER 22 – BLAKE
23. CHAPTER 23 – MITCH
24. CHAPTER 24 – BLAKE
25. CHAPTER 25 – MITCH
26. CHAPTER 26 – BLAKE
27. CHAPTER 27 – MITCH
28. CHAPTER 28 – BLAKE (1 Month Later)
29. CHAPTER 29 – MITCH (2 Weeks Later)
30. CHAPTER 30 - BLAKE
31. CHAPTER 31 – MITCH
32. CHAPTER 32 – MITCH – 7 Months Later
33. CHAPTER 33 – GRANT – EPILOGUE
34. JOIN MY MAILING LIST