Etched In Stone by Susan Hayes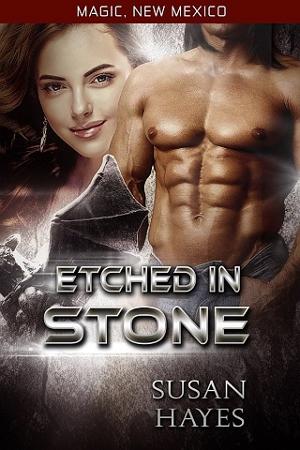 Stone has been alive for centuries, but he has never truly lived. Created by magic, he was duty bound to watch over the Drummond family and guard them with his life. Now, his last master is dead and there is no one left to protect. Instead of gaining his freedom at last, Stone finds himself locked in his granite form, a living mind trapped inside a statue of a gargoyle. Lost in despair and on the verge of madness, the days blend together into one everlasting nightmare…until he begins to dream of her.
Adina Diggersby lives for her art. Sculpting stone is her passion, one that fills her days and keeps her loneliness at bay. She spends her time in her studio or walking among her personal collection of sculptures and statues gathered from all over the world. The last thing she ever expected was for her newest purchase to come to life and inform her that he was her new protector.
Adina won't rest until Stone is free of the spells that enslave him, but unraveling the dark magic that created him will come at a price. Are these two souls doomed to be forever alone, or is their love strong enough to be etched in stone?
Enjoy another adventure set in S.E. Smith's Magic, New Mexico!
Book Details
File Nameetched-in-stone-by-susan-hayes.epub
Original TitleEtched In Stone
Creator

Susan Hayes

Languageen
IdentifierISBN:978-1-988446-38-7
File Size294.067 KB
Table of Content
1. Title Page
2. Contents
3. About The Book
4. Copyright
5. Dedication
6. Foreword
7. Chapter 1
8. Chapter 2
9. Chapter 3
10. Chapter 4
11. Chapter 5
12. Chapter 6
13. Chapter 7
14. Chapter 8
15. Chapter 9
16. The World of Magic, New Mexico
17. More Books from Susan Hayes
18. About the Author