Enslaved By the Alien Dragon by Stella Cassy
no ratings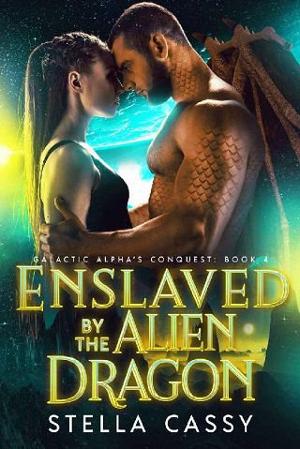 Survivor. Slave. Worthless human jinx…
After Yvette causes a fatal disaster at a slave auction, her Pax owners give her away to the nearest buyer just to get rid of her. Her dragon captor is huge and domineering, with just a hint of vulnerability that calls to her. Yvette shouldn't want to bring any warmth to his life, but the longer she spends with him, the more she wonders what's hiding under her warrior's grumpy exterior.
He'll lead his people to glory…
Ranel is no stranger to heartbreak. He's closed himself off rather than once more risk suffering the shattering intimacy that love and loss bring. Who needs love when there's a war against the Pax to be won? This gruff old dragon doesn't have time for a weak lover or a soft heart, even if something inside of him yearns for the sweetness that his newest slave offers.
Yvette's strength is well hidden, tamped down by the Pax who once held her captive, but as it begins to peek through, Ranel knows that Yvette is the person who belongs by his side. Her body may belong to him, but he's determined to claim her heart.
The Pax will stop at nothing to see Ranel's people destroyed and their hopes dashed. Ranel and Yvette will need to rely on one another if they are going to survive the war and find a love neither of them thought possible.
File Name:enslaved-by-the-alien-dragon-by-stella-cassy.epub
Original Title:Enslaved By The Alien Dragon: A SciFi Alien Romance (Galactic Alpha's Conquest Book 4)
Creator:

Stella Cassy

Language:en
Identifier:MOBI-ASIN:B07WYD97RM
Date:2019-09-09T16:00:00+00:00
File Size:297.938 KB
Table of Content
1. Title Page
2. Contents
3. Hey There!
4. 1. Yvette
5. 2. Ranel
6. 3. Yvette
7. 4. Ranel
8. 5. Yvette
9. 6. Ranel
10. 7. Yvette
11. 8. Ranel
12. 9. Yvette
13. 10. Ranel
14. 11. Yvette
15. 12. Ranel
16. 13. Yvette
17. 14. Ranel
18. 15. Yvette
19. 16. Ranel
20. 17. Yvette
21. 18. Ranel
22. 19. Yvette
23. 20. Ranel
24. 21. Yvette
25. 22. Ranel
26. 23. Yvette
27. 24. Ranel
28. 25. Yvette
29. 26. Ranel
30. 27. Yvette
31. 28. Ranel
32. 29. Yvette
33. Epilogue
34. Chapter 1 Preview – Taken By The Alien Dragon
35. Free Prequel!
36. Enslaved By The Alien Dragon