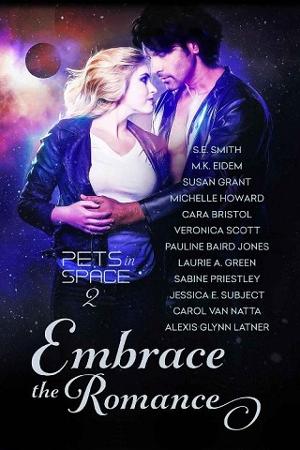 The pets are back! Embrace the Romance: Pets in Space 2, featuring twelve of today's leading Science Fiction Romance authors brings you a dozen original stories written just for you! Join in the fun, from the Dragon Lords of Valdier to a trip aboard award-winning author, Veronica Scott's Nebula Zephyr to journeying back to Luda where Grim is King, for stories that will take you out of this world!
Includes:
PEARL'S DRAGON: DRAGON LORDS OF VALDIER STORY by S.E. Smith.
A GRIM PET by M.K. Eidem.
THE PRINCE, THE PILOT, AND THE PUPPY by Susan Grant.
WIRED FOR LOVE by Michelle Howard
RESCUED BY THE CYBORG by Cara Bristol
STAR CRUISE: SONGBIRD by Jean D. Walker
TIME TRAP by Pauline Baird Jones.
COURTING DISASTER: STARDOG2 by Laurie A. Green.
GIB AND THE TIBBAR by Jessica E. Subject.
PET TRADE by Carol Van Natta.
MASCOT by Alexis Glynn Latner.
Book Details
File Nameembrace-the-romance-pets-in-space-2-by-s-e-smith.epub
Original TitleEmbrace the Romance: Pets in Space 2
Creator

S.E. Smith

Languageen
IdentifierMOBI-ASIN:B073W5WQBH
Publisher

Cats, Dogs and Other Worldly Creatures

Date2017-10-09T18:30:00+00:00
File Size1.565 MB
Table of Content
1. Copyright
2. Table of Contents
3. About Embrace the Romance
4. Pearl's Dragon

Dedication
Acknowledgments
About Pearl's Dragon
Pearl's Rules for Living:
Prologue
Chapter 1
Chapter 2
Chapter 3
Chapter 4
Chapter 5
Chapter 6
Chapter 7
Chapter 8
Chapter 9
Chapter 10
Chapter 11
Chapter 12
Chapter 13
Chapter 14
Chapter 15
Epilogue
Also by S.E. Smith
About the Author

5. A Grim Pet

About A Grim Pet
Chapter 1
Chapter 2
Chapter 3
Chapter 4
Chapter 5
Chapter 6
Chapter 7
Epilogue
Acknowledgments
Also by M.K. Eidem
About the Author

6. The Prince, the Pilot, and the Puppy

ABOUT The Prince, the Pilot, and the Puppy
Prologue
Chapter 1
Chapter 2
Chapter 3
Chapter 4
Epilogue
Why Susan Grant Wrote Star Puppy
Acknowledgments
Also by Susan Grant
About the Author

7. Wired For Love

About Wired for Love
Dedication
Chapter 1
Chapter 2
Chapter 3
Chapter 4
Chapter 5
Chapter 6
Chapter 7
Chapter 8
Chapter 9
Chapter 10
Chapter 11
Chapter 12
Epilogue
Also by Michelle Howard
About the Author

8. Rescued by the Cyborg

About Rescued by the Cyborg
Chapter 1
Chapter 2
Chapter 3
Chapter 4
Chapter 5
Chapter 6
Chapter 7
Chapter 8
Chapter 9
Chapter 10
Chapter 11
Chapter 12
Chapter 13
Chapter 14
Chapter 15
Note to readers
Acknowledgments
Also by Cara Bristol
About the Author

9. Star Cruise: Songbird

About Star Cruise: Songbird
Dedication
Chapter 1
Chapter 2
Chapter 3
Chapter 4
Chapter 5
Chapter 6
Also by Veronica Scott
About the Author

10. Time Trap

About Time Trap
Chapter 1
Chapter 2
Chapter 3
Chapter 4
Chapter 5
Chapter 6
Chapter 7
Chapter 8
Chapter 9
Chapter 10
History of Women in Gymnastics
Also by Pauline Baird Jones
About the Author

11. Courting Disaster: StarDog 2

About Courting Disaster: StarDog 2
Chapter 1
Chapter 2
Chapter 3
Chapter 4
Chapter 5
Chapter 6
Chapter 7
Chapter 8
Chapter 9
Chapter 10
Chapter 11
Chapter 12
Epilogue
Why Laurie Wrote Courting Disaster: StarDog 2
Also by Laurie A. Green
About the Author

12. Sensate

About Sensate
Chapter 1
Chapter 2
Chapter 3
Chapter 4
Chapter 5
Chapter 6
Also by Sabine Priestly
About the Author

13. Gib and the Tibbar

About Gib and the Tibbar
Chapter 1
Chapter 2
Chapter 3
Chapter 4
Chapter 5
Chapter 6
Chapter 7
Why Jessica wrote GIB AND THE TIBBAR:
Also by Jessica E. Subject
About the Author
Acknowledgments

14. Pet Trade

About Pet Trade
Chapter One
Chapter Two
Chapter Three
Chapter Four
Chapter Five
Chapter Six
Chapter Seven
Chapter Eight
Chapter Nine
Chapter Ten
Chapter Eleven
Chapter Twelve
Chapter Thirteen
Chapter Fourteen
Chapter Fifteen
Also by Carol Van Natta
About the Author

15. Mascot

About Mascot
Chapter 1
Chapter 2
Chapter 3
Chapter 4
Chapter 5
Also by Alexis Glynn Latner
About the Author

16. Thank You
Read Online(Swipe version)