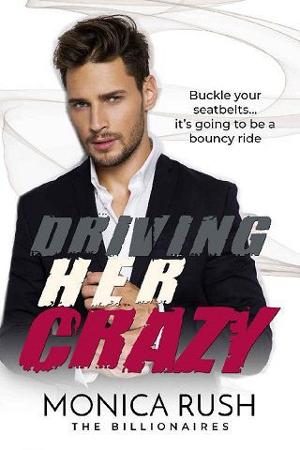 Buckle your seatbelts…
There's no such thing as an undatable girl—and I should know. As CEO of one of the country's hottest new dating services, I've never met a woman I can't match. I'm a Driver after all…my foster brothers and I are all self-made billionaires who never say no to a challenge.
Maisie Lancaster won't be the one to break my streak, either. Despite her insistence that love is a four-letter word, I'm matching Maisie as a special favor to her VIP BFF. I just never expected her perfect match to be…me.
It's going to be a bouncy ride.
From our very first conversation, Maisie's got me skidding into the turn. She's laugh-out-loud funny, irreverent and exactly the kind of wild that gets my engine running…and she definitely knows how to empty my tank. But when she learns that our unexpected romance is a setup from the start?
I wonder if it'll be my heart left in the dust.
Book Details
File Namedriving-her-crazy-by-monica-rush.epub
Original TitleDriving Her Crazy (The Billionaires Book 1)
Creator

Monica Rush

Languageen
IdentifierMOBI-ASIN:B07R89869R
Publisher

Monica Rush Books, LLC

Date2019-05-13T16:00:00+00:00
File Size247.080 KB
Table of Content
1. Title Page
2. Contents
3. Driving Her Crazy
4. Copyright
5. Chapter 1
6. Chapter 2
7. Chapter 3
8. Chapter 4
9. Chapter 5
10. Chapter 6
11. Chapter 7
12. Chapter 8
13. Chapter 9
14. Chapter 10
15. Chapter 11
16. Chapter 12
17. Chapter 13
18. Driving Her Hard
19. Book 2 in the Billionaires Series
20. Join the Rush!
21. More Rush to Crush