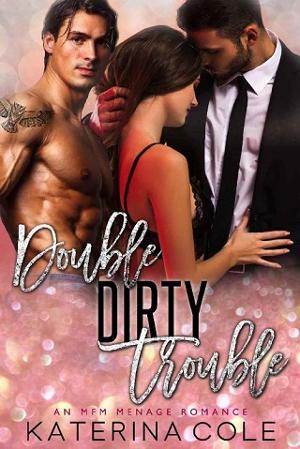 We're in the business of complete satisfaction
Karin
I'm supposed to be successful and accomplished.Instead, I have an MBA and more debt than I can count.I'm willing to do whatever it takes—even play dumb to get out of this hole.Desperate doesn't begin to cover it.So when the city's hottest and richest bachelors want me…How can I turn them down?Did I mention there are two of them?
Lawson/Nate
We posted an ad for an assistant.We aren't expecting temptation to walk through the door.Innocent. Perfect. Gorgeous.Karin should be off limits.Only she has the kind of figures we can't resist.But when she wants to play too, there's no turning back.There's going to be a return on our investment.Our business is about to take off, even if we have to break all the board room rules.
Book Details
File Namedouble-dirty-trouble-by-katerina-cole.epub
Original TitleDouble Dirty Trouble: An MFM Menage Romance
Creator

Katerina Cole

Languageen
IdentifierMOBI-ASIN:B07F3GXHHC
Date2018-06-26T16:00:00+00:00
File Size193.082 KB
Table of Content
1. Title Page
2. A Note from Katerina
3. Copyright
4. Contents
5. Prologue
6. 1. Karin
7. 2. Nate
8. 3. Lawson
9. 4. Karin
10. 5. Karin
11. 6. Nate
12. 7. Karin
13. 8. Lawson
14. 9. Nate
15. 10. Karin
16. 11. Lawson
17. 12. Karin
18. 13. Nate
19. 14. Karin
20. 15. Karin
21. Epilogue
22. Don't miss updates from Katerina