Devils With Halos by Natalie Bennett
no ratings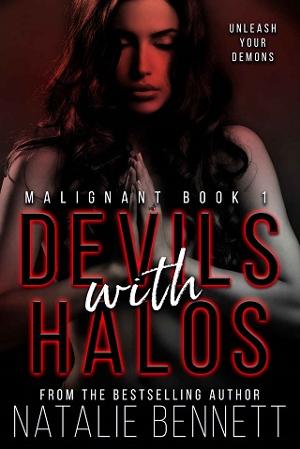 Ma-lig-nant
Adjective.
1. Malevolent
2. Very virulent or infectious.
Charm is deceptive.
We were taken in the middle of the night.
Beauty is deceitful.
They called it an institution for the diseased.
Freedom is an illusion.
Our choices were no longer our own.
Our bodies became their exclusive property.
Our lives no longer mattered.
Survival is subjective.
We'd all done terrible things.
We all had demons.
We all had secrets.
And the truth would destroy everything.
File Name:devils-with-halos-by-natalie-bennett.epub
Original Title:Devils With Halos (Malignant Book 1)
Creator:

Natalie Bennett

Language:en
Identifier:MOBI-ASIN:B07K6VWND1
Publisher:

BB Books

Date:2018-11-03T18:30:00+00:00
File Size:539.260 KB
Table of Content
1. Devils With Halos
2. Copyright
3. Blurb
4. DEDICATION
5. Playlist
6. PART ONE
7. CHAPTER ONE
8. CHAPTER TWO
9. CHAPTER THREE
10. CHAPTER FOUR
11. CHAPTER FIVE
12. CHAPTER SIX
13. CHAPTER SEVEN
14. CHAPTER EIGHT
15. PART TWO
16. CHAPTER NINE
17. CHAPTER TEN
18. CHAPTER ELEVEN
19. CHAPTER TWELVE
20. CHAPTER THIRTEEN
21. CHAPTER FOURTEEN
22. CHAPTER FIFTEEN
23. Epilogue
24. Epilogue
25. MALIGNANT SERIES
26. DEPRAVITY
27. Copyright
28. Blurb
29. Prelude
30. BADLANDS SERIES
31. About Natalie