Devil In A Suit, Vol. 3 by Ivy Carter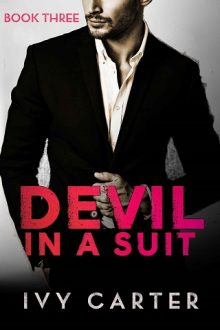 He was never supposed to see it.
The email I wrote my friend.
The one where I called him cruel, cold, demanding. Oh, yeah, and sexy as hell.
But instead of sending it to my friend, I sent it to him.
My boss.
Jared King, billionaire head of King Advertising. The man everyone calls The King because he's so controlling, gorgeous, and full of himself.
I answer his phones, and he barely looks at me, except for one word–"Messages?"– as he holds his hand out, his Rolex glinting under the light as he demands what's his.
The employees all whisper about how bad they want him, and his face is on a different magazine each week, always with a different socialite or actress on his arm.
I'm sure he'll fire me when he reads the email I accidentally sent him. Jared King is not known for his forgiving nature. In fact, it's just the opposite.
But to my surprise, he gives me one more chance. The only catch? I have to do everything he says.
Soon his tasks are becoming less work-related and more… sex-related. He's making me take pictures of myself in lingerie, asking me to accompany him to fancy restaurants, making me get down on my knees and…
He knows how to play my body and mind, how to keep me wanting and begging for more of him. But soon I'm starting to worry that my second chance is turning into my worst nightmare.
Because the only thing more torturous than being Jared King's assistant? Is falling in love with him…
Book Details
File Namedevil-in-a-suit-vol-3-by-ivy-carter.epub
Original TitleDevil In A Suit (Book Three)
Creator

Ivy Carter

Languageen
IdentifierMOBI-ASIN:B01M0IBSRV
Publisher

Favor Ford Publishing

Date2016-09-18T18:30:00+00:00
File Size478.077 KB
Table of Content
1. Copyright
2. NOTE
3. Want To Be In The Know?
4. Devil In A Suit (Book Three) by Ivy Carter

Chapter 1
Chapter 2
Chapter 3
Chapter 4
Chapter 5
Chapter 6
Chapter 7
Chapter 8
Epilogue

5. Bonus Content: For His Pleasure (Books 1-5) by Kelly Favor

FOR HIS PLEASURE (FOR HIS PLEASURE, BOOK 1)
FOR HIS TAKING (FOR HIS PLEASURE, BOOK 2)
FOR HIS KEEPING (FOR HIS PLEASURE, BOOK 3)
FOR HIS HONOR (FOR HIS PLEASURE, BOOK 4)
FOR HIS TRUST (FOR HIS PLEASURE, BOOK 5)