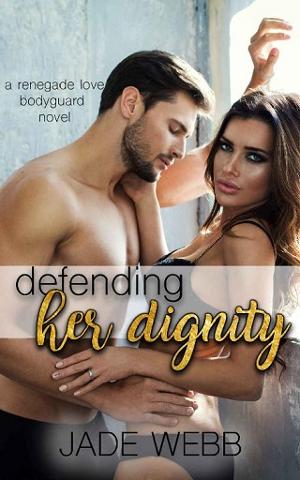 Men have never taken me seriously. At 5'5" on a good day, they can't help but look straight through me, or worse: right at my rack. So I prove them wrong. Usually with a swift kick to their golden jewels that sends them straight to the floor. That's what they get for messing with a captain from the Israeli Defense Forces.
When my cousin offers me a gig for a bodyguard position with one of the richest families in the country, I jump at the opportunity. But when I meet the client, Lawrence Monroe… it doesn't go so well.
So I tell him to go screw himself and as I stumble out of the room, I find Isabel, his adorable daughter getting her butt kicked in Wii boxing. I offer to teach her a few tricks and then suddenly Lawrence has a change of heart. That same day I move into his McMansion, into a bedroom the size of my entire apartment. Except there's one problem: while I think I'm being hired as a bodyguard, he thinks he's hiring a nanny. Yeah, annoying. But for the sake of his blue-eyed baby girl (and a sizable paycheck), I play along.
And while at first, I just pegged Lawrence as an over-protective father, I am beginning to get the feeling that Isabel and I are being watched. All my instincts tell me to follow my gut, but how can I trust myself when every time I am within a 10 foot radius of Lawrence, my body betrays me and I feel inexplicably attracted to this devoted single dad. There is something between us, lingering just beneath the surface. But he is American royalty and I am only here until this threat is neutralized.
After all, I can't let myself fall for him. I need to focus on protecting his daughter and deciding what kind of life I want for myself. No, falling for a man like Lawrence Monroe would cost me too much. I have to defend my dignity.
Book Details
File Namedefending-her-dignity-by-jade-webb.epub
Original TitleDefending Her Dignity (Renegade Love Bodyguard Novel Book 3)
Creator

Jade Webb

Languageen
IdentifierMOBI-ASIN:B07BK4BRZL
Date2018-05-14T16:00:00+00:00
File Size438.042 KB
Table of Content
1. Copyright
2. Dedication
3. Table of Contents
4. 1. Lawrence
5. 2. Yael
6. 3. Lawrence
7. 4. Yael
8. 5. Yael
9. 6. Lawrence
10. 7. Lawrence
11. 8. Yael
12. 9. Yael
13. 10. Lawrence
14. 11. Yael
15. 12. Lawrence
16. 13. Lawrence
17. 14. Yael
18. 15. Yael
19. 16. Lawrence
20. 17. Lawrence
21. 18. Lawrence
22. 19. Yael
23. 20. Lawrence
24. 21. Yael
25. 22. Lawrence
26. 23. Yael
27. 24. Lawrence
28. 25. Yael
29. 26. Lawrence
30. 27. Lawrence
31. 28. Lawrence
32. 29. Yael
33. 30. Yael
34. 31. Yael
35. 32. Yael
36. 33. Lawrence
37. 34. Lawrence
38. 35. Lawrence
39. 36. Yael
40. 37. Yael
41. 38. Yael
42. Subscribe!
43. Acknowledgments
44. About the Author
45. Also by Jade Webb
46. Also by Jade Webb