Death Wish by Harper A. Brooks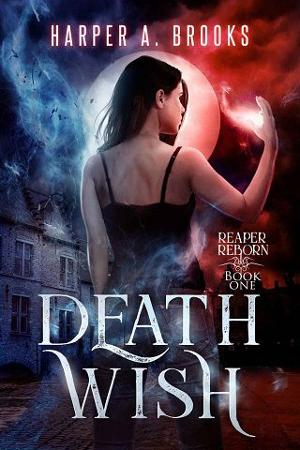 Life's a b*tch–but what comes after isn't much better.
Jade Blackwell, a paranormal reaper, helps supernaturals cross over after death. Her job comes with lots of rules–but not following them is kind of her thing…until it ends up involving her in something much deadlier than she ever imagined.
With the protective veil fading away, demons are crossing realms and impregnating humans, and Jade's best friend is among their victims. She's determined to save her friend, even if it means working with Cole Masters, a dangerous demon halfling and notorious gun-for-hire.
But time is running out to fix the barrier and find a demon cure. With supernaturals everywhere in danger, and the balance between good and evil tipped for the worst, Jade must choose between her own eternal afterlife…or the living world she so desperately wants to be a part of.
Book Details
File Namedeath-wish-by-harper-a-brooks.epub
Original TitleDeath Wish
Creator

Brooks, Harper A.

Languageen
Identifier4267946763
Publisher

Harper A Brooks

Date2019-05-17
Subjecturban fantasy
File Size747.837 KB
Table of Content
1. Table of Contents
2. Death Wish
3. Copyright
4. Other Books by Harper A Brooks
5. Chapter One
6. Chapter Two
7. Chapter Three
8. Chapter Four
9. Chapter Five
10. Chapter Six
11. Chapter Seven
12. Chapter Eight
13. Chapter Nine
14. Chapter Ten
15. Chapter Eleven
16. Chapter Twelve
17. Chapter Thirteen
18. Chapter Fourteen
19. Chapter Fifteen
20. Chapter Sixteen
21. Chapter Seventeen
22. Chapter Eighteen
23. Chapter Nineteen
24. Chapter Twenty
25. Chapter Twenty-One
26. Chapter Twenty-Two
27. Chapter Twenty-Three
28. Chapter Twenty-Four
29. Chapter Twenty-Five
30. Chapter Twenty-Six
31. Chapter Twenty-Seven
32. Chapter Twenty-Eight
33. Chapter Twenty-Nine
34. About the Author