Danville, Kentucky by Robin Edwards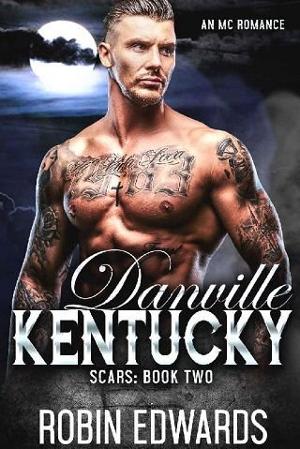 They say you're either a sinner or a saint and if you ask the residents of Danville, I'm a godsend.
If you ask Chelsea's father, on the other hand, I'm the devil incarnate.
I've tried to forget about her and I've tried to move on.
I was doing well until I discover that she's finally come back home.
If I was smart, I'd offer her nothing more than pleasantries.
If I wasn't a glutton for punishment, I'd remind myself stay away.
But that ain't happening.
Chelsea Roberts has seen me as an acquaintance, a neighbor, a childhood friend,
and now the cop that put her brother behind bars.
Yet, whenever we're in the same room together,
her eyes tell me there's more to the story than the lies she tells herself.
All it's going to take is one moment, one kiss, one promise,
and one sin for that wall to break.
When it happens, I'm going to make her mine.
File Name:danville-kentucky-by-robin-edwards.epub
Original Title:Danville, Kentucky: An MC Romance (Scars Book 2)
Creator:

Robin Edwards

Language:en
Identifier:MOBI-ASIN:B07Z66DCCN
Publisher:

Second Chances Press

Date:2020-01-17T16:00:00+00:00
File Size:154.705 KB
Table of Content
1. Before You Begin Reading…
2. Prologue
3. Chapter One
4. Chapter Two
5. Chapter Three
6. Chapter Four