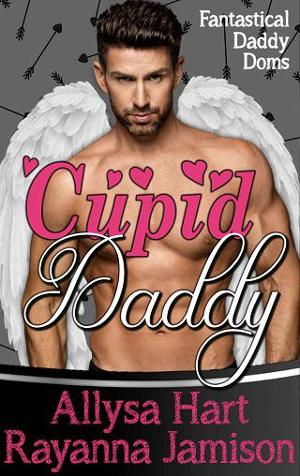 What kind of matchmaker looks for dates on Tinder anyway?
The desperate kind.
My brick and mortar matchmaking service was the last of its type.
Until HE came to town and opened up shop right across the street.
Suddenly clients are lining up down the block hoping to find their one true love.
The only problem?
They are lining up on his side of the street!
I don't know who this Greek god-like man with a Midas touch for making love matches is, but he is seriously messing with my life.
Every time I see him I want to throw him against a wall.
And rip his clothes off.
And screw his brains out.
I need him gone. Like, Yesterday.
Before I lose everything. Including my pride.
Book Details
File Namecupid-daddy-by-allysa-hart.epub
Original TitleCupid Daddy
Creator

Hart, Allysa

Languageen
Identifier3503074359
Date2019-02-07
File Size868.984 KB
Table of Content
1. Title Page
2. Full Page Image
3. Contents
4. Copyright
5. Prologue
6. Chapter 1
7. Chapter 2
8. Chapter 3
9. Chapter 4
10. Chapter 5
11. Chapter 6
12. Chapter 7
13. Chapter 8
14. Chapter 9
15. Chapter 10
16. Chapter 11
17. Chapter 12
18. Chapter 13
19. Chapter 14
20. Chapter 15
21. Chapter 16
22. Chapter 17
23. Afterword
24. Check out Genie Daddy!
25. Meet Rayanna Jamison
26. Also By Rayanna Jamison
27. Other Books by Rayanna Jamison
28. Meet Allysa Hart and AllyCat's Creations!
29. Follow Alyssa
30. Also by Allysa Hart