Cruel Games by K.J. Thomas
no ratings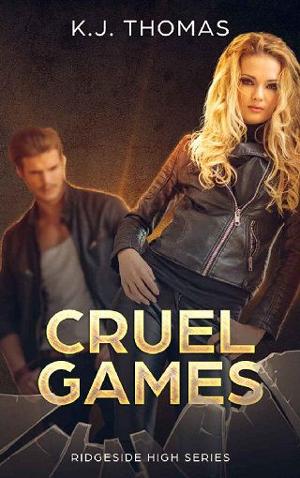 Somehow, we'll fight and find our way back to each other.
Morgan
Did I lose him for good? I saw what Levi did to him, there's no way he could've survived that.
Could things really get any worse? I never should've asked that question. Of course, they will, they always do…
Many of the puzzle pieces are finally coming together.
He may be the King of Ridgeside High,
but I don't even know if he's alive.
Hudson
He, was able to get her away from me twice. Enough, it's time to put an end to Levi once and for all.
I plan to annihilate everything in the path between her and him.
I will do whatever I can to protect her from that monster!
No matter what, or who gets hurt in the process.
File Name:cruel-games-by-k-j-thomas.epub
Original Title:Cruel Games: A Bully Romance: (Ridgeside High Book 3)
Creator:

K.J. Thomas

Language:en
Identifier:MOBI-ASIN:B07TLDQYW3
Publisher:

K.J. Thomas

Date:2019-09-16T16:00:00+00:00
Subject:dark romance
File Size:281.971 KB
Table of Content
1. Title Page
2. Copyright Page
3. One
4. Two
5. Three
6. Four
7. Five
8. Six
9. Seven
10. Eight
11. Nine
12. Ten
13. Eleven
14. Twelve
15. Thirteen
16. Fourteen
17. Fifteen
18. Sixteen
19. Seventeen
20. Eighteen
21. Nineteen
22. Twenty
23. Twenty-One
24. Twenty-Two
25. Twenty-Three
26. Twenty-Four
27. Twenty-Five
28. Now Available
29. Also, by K.J. Thomas
30. Acknowledgements
31. About the Author