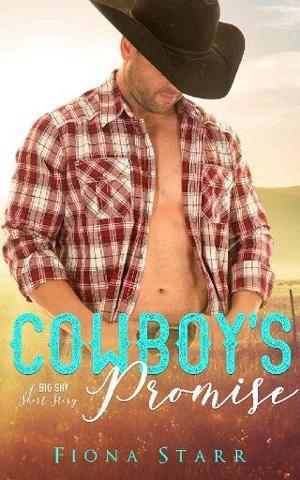 Hank Blaze
Eight Seconds… That's all it took to win my spot on the pro rodeo circuit. The dream was mine, and I was taking it. Only problem: chasing my dream meant leaving home and Cass Wyatt behind. I left her with a promise and my heart. Turns out the dream needed more than eight seconds to keep going—it took all my time, leaving me none for anything else.
When a tough break sends me home to Paulson, Montana for some R&R, it's finally my chance to get back to Cass. But according to her, my months of silence proved my promise wasn't worth the dust on her boots. Can I win her back before everything is lost?
Book Details
File Namecowboys-promise-by-fiona-starr.epub
Original TitleCowboy's Promise (A Big Sky Short Story)
Creator

Fiona Starr

Languageen
IdentifierMOBI-ASIN:B07W3FM32Q
Publisher

Steamy Starr Stories

Date2019-08-11T16:00:00+00:00
File Size412.115 KB
Table of Content
1. Title Page
2. Copyright
3. Prologue
4. Full Page Image
5. Contents
6. Chapter One
7. Chapter Two
8. Chapter Three
9. Chapter Four
10. Chapter Five
11. Chapter Six
12. Chapter Seven
13. Epilogue
14. The Big Sky Series!
15. About Fiona Starr
16. Also by Fiona Starr
17. The Flirt Club!