Court of Flame by Miranda Martin
no ratings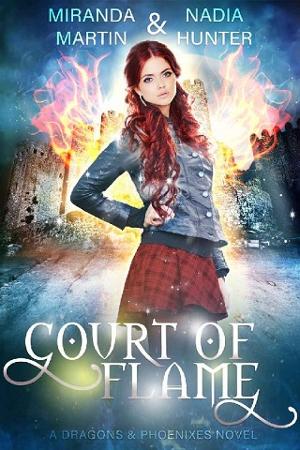 The former mad King Emberich is back and out for vengeance. He wants to destroy Sven, my love and sovereign, for daring to stand up to the crazed, bloodthirsty tyrant.
I have to stop my father, nothing else matters.
I've got allies, sure, but if I call on them there'll be open warfare between the Dragons and the Phoenixes. No one wants that, least of all me.
I know what Sven would say. I should let him go rather than risk everything. But that's not going to happen.
He's mine, I'm his, and I'm going to solve this. My heart wars with my duty but I refuse to let either one go.
File Name:court-of-flame-by-miranda-martin.epub
Original Title:Court of Flame: A Dragons & Phoenixes Novel (The Phoenix Wars Book 3)
Creator:

Miranda Martin

Language:en
Identifier:MOBI-ASIN:B07F992J89
Date:2018-07-03T16:00:00+00:00
File Size:258.111 KB
Table of Content
1. Blurb
2. Title Page
3. Contents
4. Chapter 1
5. Chapter 2
6. Chapter 3
7. Chapter 4
8. Chapter 5
9. Chapter 6
10. Chapter 7
11. Chapter 8
12. Chapter 9
13. Chapter 10
14. Chapter 11
15. Chapter 12
16. Chapter 13
17. Chapter 14
18. Chapter 15
19. Chapter 16
20. Chapter 17
21. Chapter 18
22. Chapter 19
23. Chapter 20
24. Chapter 21
25. Chapter 22
26. Chapter 23
27. Chapter 24
28. Chapter 25
29. Miranda Martin
30. Red Hot Sneak Peek: Dragon's Baby
31. About the Author