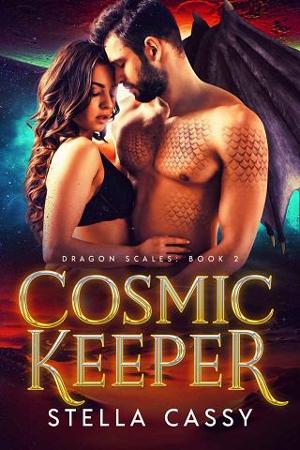 The Pax have incredible taste in human women.
Lehar is second-in-command to one of the universe's most wanted. A dragon shapeshifter with a deep desire to further the Hielsrane fleet (and perhaps one day steal it from its current commander), he's long given in to the fact that he's made for looting not love. Yet when a slave's rebellion catches his eye, he can't help but wonder if his assumption is wrong.
Lara was Hollywood's most valued wallflower. An actress with a talent for timing, she's done very well for herself. That is, until the Pax kidnap her from Earth and try to sell her at a slave auction. Confused and lost, she's left relying on the help of a strange dragon-man who seems to be amused by her.
What will it take to teach him that she's nobody's fool?
Book Details
File Namecosmic-keeper-by-stella-cassy.epub
Original TitleCosmic Keeper: A SciFi Alien Romance (Dragon Scales Book 2)
Creator

Stella Cassy

Languageen
IdentifierMOBI-ASIN:B07RZPCVBF
Date2019-06-02T18:30:00+00:00
File Size247.501 KB
Table of Content
1. Title Page
2. Contents
3. Hello!
4. 1. Lara
5. 2. Lehar
6. 3. Lara
7. 4. Lehar
8. 5. Lara
9. 6. Lehar
10. 7. Lara
11. 8. Lehar
12. 9. Lara
13. 10. Lehar
14. 11. Lara
15. 12. Lehar
16. 13. Lara
17. 14. Lehar
18. 15. Lara
19. 16. Lehar
20. 17. Lara
21. 18. Lehar
22. 19. Lara
23. 20. Lehar
24. 21. Lara
25. 22. Lehar
26. 23. Lara
27. 24. Lara
28. 25. Lara
29. 26. Lehar
30. 27. Lara
31. 28. Lehar
32. 29. Lara
33. Epilogue
34. Free Prequel!
35. Cosmic Keeper