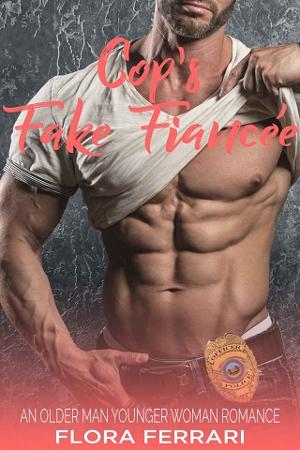 Steven
Cop's live by a moral code. No gray area.
So it's no surprise that I turn blue in the face when my best friend's daughter asks me to be her fake fiancé.
But what is a surprise is that she's not expected to make it past December if she doesn't get treatment for a rare kind of cancer. It's treatment she can't afford.
I've sworn to protect and serve those who can't, but now I'm swearing at myself tossing and turning trying to figure out how to help her without compromising my integrity and career as a police officer.
May
I don't know what to expect when I ask my my deceased dad's best friend to be my fake fiancé. Sure, he's a sexy older man and I've had a crush on him for years, but this doesn't count.
But what counts for him the most is honor, integrity, and helping others which is why I feel so bad asking this cop to compromise and make me his fake fiancée.
But the closer I get to death, the more I know the only life worth living is a life with him. And the closer I get to him the more real this all feels.
Steven
I'm thinking of ways to help her out, but I never thought I'd actually develop these kinds of feelings for her. It's just that she's a young woman now, not just my cute little goddaughter anymore.
When she tells me the first time she thought up this idea for our fake relationship she was hoping it could lead to another kind of first time, it's that moment I know I've got to not only be her first, but her one and only.
I'm a man who knows what he wants and I want to turn this fantasy into a reality and there's only one way to do that…make her mine. Forever.
Book Details
File Namecops-fake-fiancee-by-flora-ferrari.epub
Original TitleCop's Fake Fiancée: An Older Man Younger Woman Romance (A Man Who Knows What He Wants Book 46)
Creator

Flora Ferrari

Languageen
IdentifierMOBI-ASIN:B07C5ZNF7L
Date2018-04-11T18:30:00+00:00
File Size138.224 KB