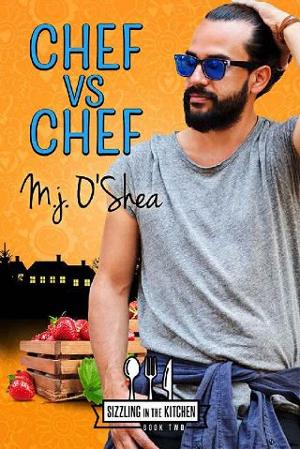 Bobby Diaz has worked his whole life to get where he is – running a restaurant with his two closest friends, no boss, no stress. When his best friend Baldwin gets the opportunity of a lifetime, he asks Bobby to take over the restaurant while he's gone. Bobby will miss his friend, but he's excited to put himself to the test. He can't believe he's getting the chance to finally be in charge.
Cal Mayer is thirty and starting over. His last relationship was a failure. His job went down the drain. So when his cousin Pete, a.k.a Baldwin Powell celebrity chef, offers him a gig in his restaurant, he can't help but to jump at the offer to reinvent himself.
Bobby and Cal don't exactly hit it off—to put it lightly. Bobby resents getting Cal dumped in his lap. Cal doesn't appreciate Bobby's frosty attitude. They're stuck together day and night, and their chemistry is undeniable… but will it be sweet summer love or a case of too many chefs in the kitchen?
Book Details
File Namechef-vs-chef-by-m-j-oshea.epub
Original TitleChef vs. Chef (Sizzling in the Kitchen Book 2)
Creator

M.J. O'Shea

Languageen
IdentifierMOBI-ASIN:B07SPJJ9V6
Date2019-06-03T16:00:00+00:00
File Size309.895 KB
Table of Content
1. Title Page
2. Copyright
3. Chapter 1
4. Chapter 2
5. Chapter 3
6. Chapter 4
7. Chapter 5
8. Chapter 6
9. Chapter 7
10. Chapter 8
11. Chapter 9
12. Chapter 10
13. Chapter 11
14. Chapter 12
15. Chapter 13
16. Chapter 14
17. Chapter 15
18. Chapter 16
19. Chapter 17
20. Chapter 18
21. Chapter 19
22. Chapter 20
23. Chapter 21
24. Epilogue
25. About the Author
26. Also by MJ O'Shea