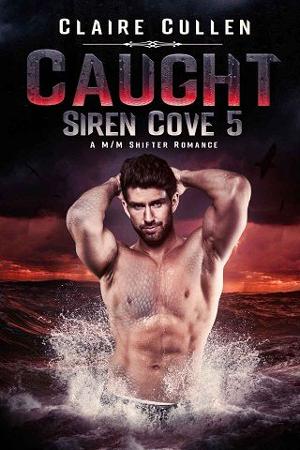 Rafael is about to betray his oldest friends.
Traveling to the Cove under the guise of friendship, Rafe is there for one reason and one reason only— to steal a siren. Drawn to Skye from the moment their eyes meet, he finds himself torn, but there are no good choices here.
You're supposed to run away from a predator not toward them.
Raised among humans, Skye isn't a typical siren. He comes to the Cove to see Aden, but he stays because of Rafael. When he feels the wolf's eyes on him, he knows he's being hunted. But in Rafe's gaze, he sees something more.
Stealing Skye is the lesser of two evils.
With his pack at Magnar's mercy, Rafe has no choice but to do the unthinkable. The siren makes it all too easy, leaving Rafe to war with his own feelings, his guilt, and the unearned trust he sees in Skye's eyes.
"You always have a choice."
Skye should have known better than to put his curiosity above his own safety, especially when it comes to Rafe. But with their very existence at stake, Rafe is their best chance of survival. The alpha is deeply troubled, and Skye wants — he needs — to help. Even if it means throwing himself headlong into the path of danger and into Rafael's arms.
Book Details
File Namecaught-by-claire-cullen.epub
Original TitleCaught
Creator

Cullen, Claire

Languageen
Identifier1880874089
Date2019-06-27
File Size271.416 KB
Table of Content
1. Contents
2. Caught
3. Chapter One
4. Chapter Two
5. Chapter Three
6. Chapter Four
7. Chapter Five
8. Chapter Six
9. Chapter Seven
10. Chapter Eight
11. Chapter Nine
12. Chapter Ten
13. Chapter Eleven
14. Chapter Twelve
15. Chapter Thirteen
16. Chapter Fourteen
17. Chapter Fifteen
18. Chapter Sixteen
19. Chapter Seventeen
20. Chapter Eighteen
21. Chapter Nineteen
22. Chapter Twenty
23. Chapter Twenty-One
24. Chapter Twenty-Two
25. Chapter Twenty-Three
26. Chapter Twenty-Four
27. Chapter Twenty-Five
28. Chapter Twenty-Six
29. Chapter Twenty-Seven
30. Chapter Twenty-Eight
31. Chapter Twenty-Nine
32. Chapter Thirty
33. Chapter Thirty-One
34. Chapter Thirty-Two
35. Epilogue
36. Author's Note