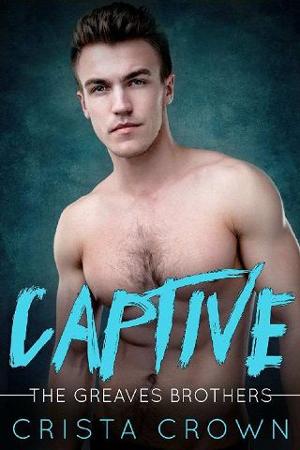 Camden has a tough shell. His history of neglect has taught him no one can be trusted, so he holds his foster family at arm's length, and everyone else even farther. When a little flirtation starts up with his new boss, Brian, he has no expectation of that shell cracking anytime soon.
Brian has already been down the commitment road, and he'd crashed and burned. He's hesitant to start an office fling, but can a one night stand cause too much trouble?
But the temptation of the forbidden relationship is too much, and soon the men find themselves sharing more than the expected—not just their bodies, but their hearts. But for their relationship to move further, Camden will have to share his deepest darkest secret… about the relationship that prompted the government to take him from his parents and the pregnancy he lost.
Book Details
File Namecaptive-by-crista-crown.epub
Original TitleCaptive: An Mpreg Romance (The Greaves Brothers Book 3)
Creator

Crista Crown

Languageen
IdentifierMOBI-ASIN:B07QVH8PGQ
Date2019-04-19T16:00:00+00:00
File Size165.161 KB
Table of Content
1. Copyright
2. Title Page
3. Contents
4. 1. Camden
5. 2. Camden
6. 3. Brian
7. 4. Camden
8. 5. Brian
9. 6. Camden
10. 7. Brian
11. 8. Camden
12. 9. Brian
13. 10. Camden
14. 11. Brian
15. 12. Camden
16. 13. Brian
17. 14. Camden
18. 15. Camden
19. 16. Brian
20. 17. Camden
21. 18. Brian
22. 19. Camden
23. 20. Brian
24. 21. Camden
25. More by Crista Crown
26. About Crista Crown