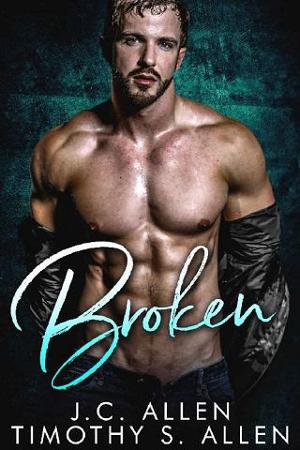 Handsome. Dark. Possessive.
The adopted son of the illustrious Hunt family.
Unlike my pedigreed adopted family with their six generations of blue blood and privilege, I have street scum running through my veins—the blood of hookers, pimps and petty thieves.
And then I met Layla Taylor.
From the very moment she waltzes into my office.
All I can see is her.
I can't let her slip through my fingers.
I had to do something.
To please her.
To have her.
No matter how risky it is.
Including breaking my own rules.
File Name:broken-by-j-c-allen.epub
Original Title:Broken
Creator:

J.C. Allen

Language:en
Identifier:MOBI-ASIN:B07TPDVNRF
Date:2019-06-28T23:00:00+00:00
File Size:656.963 KB
Table of Content
1. Title Page
2. Dedication
3. Contents
4. PROLOGUE

Chapter 1
Chapter 2
Chapter 3
Chapter 4

5. BROKEN

Chapter 5
Chapter 6
Chapter 7
Chapter 8
Chapter 9
Chapter 10
Chapter 11
Chapter 12
Chapter 13
Chapter 14
Chapter 15
Chapter 16
Chapter 17
Chapter 18
Chapter 19
Chapter 20
Chapter 21
Chapter 22
Chapter 23
Chapter 24
Chapter 25
Chapter 26
Chapter 27
Chapter 28
Chapter 29
Chapter 30
Chapter 31
Chapter 32
Chapter 33
Chapter 34
Chapter 35
Chapter 36
Chapter 37
Chapter 38
Chapter 39
Chapter 40
Chapter 41
Chapter 42
Chapter 43
Chapter 44
Chapter 45
Chapter 46
Chapter 47
Chapter 48
Chapter 49
Chapter 50
Chapter 51
Chapter 52
Chapter 53
Chapter 54
Chapter 55
Chapter 56
Chapter 57
Chapter 58
Chapter 59
Chapter 60
Chapter 61
Chapter 62
Chapter 63
Chapter 64
Chapter 65
Chapter 66
Chapter 67
Chapter 68
Chapter 69
Chapter 70
Chapter 71
Chapter 72
Chapter 73
Chapter 74
Chapter 75
Chapter 76
Chapter 77
Chapter 78
Chapter 79
Chapter 80
Chapter 81
Chapter 82
Chapter 83
Chapter 84
Chapter 85
Chapter 86
Chapter 87
Chapter 88
Chapter 89
Chapter 90
Chapter 91
Chapter 92
Chapter 93
Epilogue

6. Also by J.C. Allen
7. 1. Sabrina
8. 2. Kevin