Blood Oath by Zoey Parker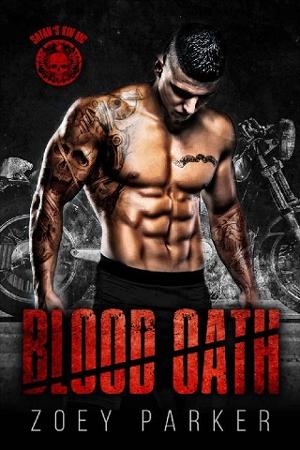 I'm the ruthless biker here to wreck her world.
I'm making her choose between death and the devil.
Caroline can end up in my bed, or six feet under.
It doesn't matter that she's not cut out for this life, because she doesn't have a choice:
I'm never letting her go.
CARSON: I'm not here to fall in love.
I'm here to f**k women and leave them in the dust.
Then I see Caroline: curves for days and bright red hair like a flame in the night.
And I take her for my own.
I know I'm not her knight in shining armor.
I'm her outlaw seducer, the devil who claims her soul.
But when she's being forced into a life of crime, I can't stop myself from protecting her.
She's terrified of the choice I offer:
Either fall prey to the wicked man who's dying to claw her back…
Or step into my world and do exactly as I say.
Book Details
File Nameblood-oath-by-zoey-parker.epub
Original TitleBlood Oath: A Motorcycle Club Romance (Satan's Kin MC) (Alpha Inked Bikers Book 1)
Creator

Zoey Parker

Languageen
IdentifierMOBI-ASIN:B07FC3C9MV
Date2018-07-06T23:00:00+00:00
File Size1.042 MB
Table of Content
1. Blood Oath: A Motorcycle Club Romance (Satan's Kin MC) (Alpha Inked Bikers Book 1)
2. Prologue
3. Chapter One
4. Chapter Two
5. Chapter Three
6. Chapter Four
7. Chapter Five
8. Chapter Six
9. Chapter Seven
10. Chapter Eight
11. Chapter Nine
12. Chapter Ten
13. Chapter Eleven
14. Chapter Twelve
15. Chapter Thirteen
16. Chapter Fourteen
17. Chapter Fifteen
18. Chapter Sixteen
19. Chapter Seventeen
20. Chapter Eighteen
21. Chapter Nineteen
22. Chapter Twenty
23. Chapter Twenty-One
24. Chapter Twenty-Two
25. Chapter Twenty Three
26. Chapter Twenty Four
27. Chapter Twenty Five
28. Chapter Twenty-Six
29. Chapter Twenty Seven
30. Chapter Twenty Eight
31. Chapter Twenty-Nine
32. Chapter Thirty
33. Books by Zoey Parker

The Devil's Chopper: A Motorcycle Club Romance (Inferno Hunters MC) (Owned by Outlaws Book 4)
The Devil's Blaze: A Motorcycle Club Romance (Fury Riders MC) (Owned by Outlaws Book 3)
The Devil's Scar: A Mafia Hitman Romance (Owned by Outlaws Book 2)
The Devil's Vow: A Motorcycle Club Romance (The Silent Havoc MC)
Buying My Wife: A Bad Boy Hitman Romance (Moretti Mafia)
Buying My Bride: A Bad Boy Motorcycle Club Romance (Wild Aces MC)
Don't Ruin My Baby: The Predators MC
Don't Take My Baby: Twisted Ghosts MC
Don't Hurt My Baby: A Bad Boy Hitman Romance
Don't Touch My Baby: Ricci Family Mafia

34. Zoey Parker Mailing List