Blackhaven Brides by Mary Lancaster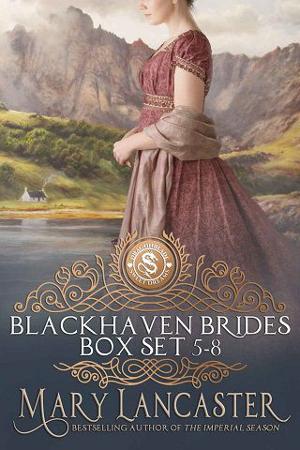 Welcome once more to the Blackhaven Brides series bundle, now with books 5 through 8. This series is set in a newly fashionable spa town on the beautiful Cumbrian coast, where the great and the bad of visiting Regency society turn local life upside down. Passion, mystery, and scandal continue to follow the citizens of this wealthy enclave, now with an entire new group of social misfits. Regency Historical Romance has never been so adventurous – or so exciting!
This set includes:
The Wicked Marquis – The lady meets her match… and he's completely ineligible.
The Wicked Governess – Can a governess teach a damaged hero?
The Wicked Spy – Can her enemy melt her cold heart?
The Wicked Gypsy – An old Blackhaven tragedy merges with a new quarrel.
File Name:blackhaven-brides-by-mary-lancaster.epub
Original Title:Blackhaven Brides (Books 5–8)
Creator:

Lancaster, Mary

Language:en
Identifier:2791767765
Publisher:

Dragonblade Publishing, Inc.

Date:2019-01-01
Subject:Fiction,Romance,Historical,Regency
File Size:821.757 KB
Table of Content
1. Title Page
2. Copyright Page
3. Books from Dragonblade Publishing
4. Table of Contents
5. The Wicked Marquis
6. Chapter One
7. Chapter Two
8. Chapter Three
9. Chapter Four
10. Chapter Five
11. Chapter Six
12. Chapter Seven
13. Chapter Eight
14. Chapter Nine
15. Chapter Ten
16. Chapter Eleven
17. Chapter Twelve
18. Chapter Thirteen
19. Chapter Fourteen
20. Chapter Fifteen
21. Chapter Sixteen
22. Chapter Seventeen
23. Chapter Eighteen
24. The Wicked Governess
25. Chapter One
26. Chapter Two
27. Chapter Three
28. Chapter Four
29. Chapter Five
30. Chapter Six
31. Chapter Seven
32. Chapter Eight
33. Chapter Nine
34. Chapter Ten
35. Chapter Eleven
36. Chapter Twelve
37. Chapter Thirteen
38. Chapter Fourteen
39. Chapter Fifteen
40. Chapter Sixteen
41. Chapter Seventeen
42. Chapter Eighteen
43. Chapter Nineteen
44. Chapter Twenty
45. The Wicked Spy
46. Chapter One
47. Chapter Two
48. Chapter Three
49. Chapter Four
50. Chapter Five
51. Chapter Six
52. Chapter Seven
53. Chapter Eight
54. Chapter Nine
55. Chapter Ten
56. Chapter Eleven
57. Chapter Twelve
58. Chapter Thirteen
59. Chapter Fourteen
60. Chapter Fifteen
61. Chapter Sixteen
62. Chapter Seventeen
63. Chapter Eighteen
64. The Wicked Gypsy
65. Dedication
66. Chapter One
67. Chapter Two
68. Chapter Three
69. Chapter Four
70. Chapter Five
71. Chapter Six
72. Chapter Seven
73. Chapter Eight
74. Chapter Nine
75. Chapter Ten
76. Chapter Eleven
77. Chapter Twelve
78. Chapter Thirteen
79. Chapter Fourteen
80. Chapter Fifteen
81. Chapter Sixteen
82. Chapter Seventeen
83. Chapter Eighteen
84. Chapter Nineteen
85. Mary Lancaster's Newsletter
86. Other Books by Mary Lancaster
87. About Mary Lancaster