Better or Worse in Dog Town by Sandy Rideout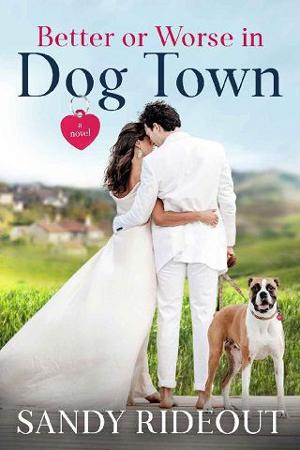 Can one wedding unite a town and end political corruption? Or will it take more brides?
Twelve years ago, Isla McInnis followed a hunch to Dorset Hills in search of the perfect rescue dog. She found the dog… but the perfect man slipped through her fingers.
Ever since, she's longed to come back to this fairy-tale town—the town she practically created with an article she wrote praising Dorset Hills as the best place on earth for dogs and dog lovers.
Returning at last, Isla finds Dorset Hills isn't quite as sweet as she remembers. In the past year, a new mayor has corrupted her vision and turned the place into a circus. Now he's collecting puppies from premier breeders for an illicit project, and somehow evading the Rescue Mafia.
Isla's plan to oust the mayor turns into a clever game of political cat and mouse. To solve the mystery of the purloined puppies, she'll need to locate the new dog of her dreams as well as reconnect with a man whose heart has hardened against her.
One thing's for sure: the mayor has one heck of a fight on his hands in this hilarious and heartwarming season finale.
File Name:better-or-worse-in-dog-town-by-sandy-rideout.epub
Original Title:Better or Worse in Dog Town: (Dog Town 10)
Creator:

Sandy Rideout

Language:en
Identifier:ISBN:9781989303436
Date:2020-01-16T16:00:00+00:00
File Size:411.128 KB
Table of Content
1. Title Page
2. Copyright
3. Dedication
4. Contents
5. Welcome to Dog Town!
6. Chapter 1
7. Chapter 2
8. Chapter 3
9. Chapter 4
10. Chapter 5
11. Chapter 6
12. Chapter 7
13. Chapter 8
14. Chapter 9
15. Chapter 10
16. Chapter 11
17. Chapter 12
18. Chapter 13
19. Chapter 14
20. Chapter 15
21. Chapter 16
22. Chapter 17
23. Chapter 18
24. Chapter 19
25. Chapter 20
26. Chapter 21