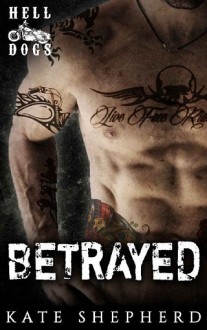 TNT:
I'd served in the Corps as an explosives expert, mostly disarming IEDs in Baghdad while the U.S. forces were occupying Iraq. That's where I'd met Bulldog, and that's how I ended up in the Hell Dogs Motorcycle Club back in the States. Having plenty of nerve and being able to pull off the look of a high roller, I became a debt collector for the club's illicit activities. My job was to lose most of the money I collected by gambling it in a casino in Reno, Nevada, and living the high life. When I met Peach, however, my entire lifestyle got turned upside down.
Peach:
I was one of the rare women who had survived in the Marines and came out of it without becoming butch. I had all of the special features of a supermodel, but also the grit of a jarhead. I'd used my GI Bill to become a licensed engineer after I got out of the Corps, but I had a wild side that I just couldn't tame. I had a Fat Boy Harley Davidson that I could handle as well as any man and plenty of attitude to go with it. When I decided that I ought to be running things and came up with a plan to take the two strongest leaders out of the picture, I was in for a surprise that I'd never seen coming.
Bulldog:
After leaving the Corps, I took over as president of the Golden Coast Hell Dogs, a one percent motorcycle club that was open only to retired or active duty Marines. As president, I had control of all of the illicit operations that belonged to the Hell Dogs. I had a kick-ass debt collector who remained unrecognizable and deniable, and I had the hottest girlfriend in California doing deliveries for me. I was sitting pretty with a dirty cop in my back pocket and the freedom to do as I pleased. There was no way in the world that I could have seen the setup that was coming my way.
Book Details
File Namebetrayed-by-kate-shepherd.epub
Original TitleMC BIKER ROMANCE: Bad Boy Romance: BETRAYED: (New Adult Motorcycle Club Navy SEAL Romance) (Contemporary Military Romance Thriller)
Creator

Kate Shepherd

Languageen
IdentifierMOBI-ASIN:B01IED39DY
Date2016-07-12T21:00:00+00:00
File Size1.086 MB
Table of Content
1. BETRAYED
2. The Cowboy's Lover
3. Wrangling for the Ranch
4. Pregnant by the SEAL
5. Signed, Sealed, and Delivered
6. Sealed with a Kiss
7. A Feud of Two Clans
8. Duchess of Secrets
9. Escaping the Prince
10. Highland Protector
11. Highlander's Promise
12. Loving the Enemy
13. Tempted by the Rogue
14. The Duke's Pregnant Peasant
15. The Rogue Highlander
16. A Bride for the Barkeep
17. A Bride's Calling
18. A Young Bride's Heart
19. Anna's Calling
20. Her New Husband's Secret
21. Idle Hands
22. Mary's Memoir
23. The Amish Brides New Life
24. The Amish Mail Order Bride
25. The Bride's New Life
26. The Pregnant Widowed Bride
27. The Red Haired Bride
28. The Sheriff's Mail Order Bride
29. The Unwelcome Bride
30. The Bear's Den
31. Her Alien Protector
32. The Bear Minimum
33. Alien Prince
34. Blood of the Queen
35. Lion Protector
36. Overbearing Alpha
37. Scarlet's Alien
38. The Alien Menage