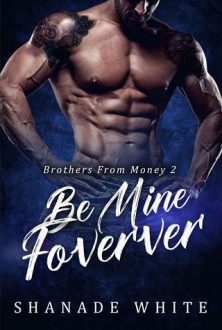 Leslie's a successful physical therapist who loves her job.But her life's thrown into turmoil when she witnesses a murder by a Russian mob boss.The police want her to testify against him, and she agrees, but has to leave everything behind and live somewhere totally new.
Not wanting to twiddle her thumbs waiting for the case, she scores a job as a therapist with a professional football team.And soon she's falling for hot player Sebastian, a billionaire with a great body and the talent of a star.They have an instant connection, and soon it's blossoming into something hot and heavy.
Things seem to be looking up, but one day a Russian gunman fires a shot in her direction, narrowly missing her.
They've found her.Leslie and Sebastian go on the run, fleeing to his family's ranch.But his family won't help her if they're not married.And the Russians are closing in by the minute.Will Leslie and Sebastian's love survive?
In fact, will they survive at all?
Book Details
File Namebe-mine-forever-by-shanade-white.epub
Original TitleBe Mine Forever: BWWM Romance (Brothers From Money Book 2)
Creator

Shanade White

Languageen
IdentifierMOBI-ASIN:B01N5JYAT1
Publisher

Afro Romance Books

Date2017-01-05T05:00:00+00:00
File Size222.955 KB
Table of Content
1. Chapter 1
2. Chapter 2
3. Chapter 3
4. Chapter 4
5. Chapter 5
6. Chapter 6
7. Chapter 7