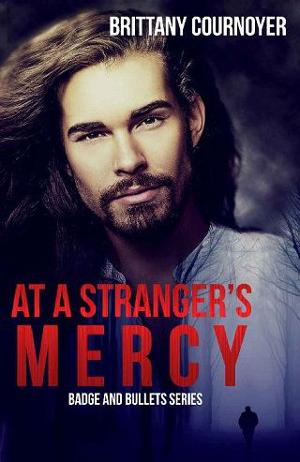 Making eye contact with a killer wasn't exactly how Bradley Danforth had planned to start his day. As an accountant, he craved structure and routine. What he hadn't anticipated was being part of a real-life murder mystery with him cast in the starring role.
Death and sorrow were part of Max Donohue's job description, leaving the detective hardened after years on the job. On his latest case, he's the one stuck protecting the only witness in a sadistic homicide.
One death becomes two… then three. And soon Max and Bradley find themselves playing a deadly game of cat and mouse. Can Max save Bradley from the clutches of a serial killer? Or will the killer finish what he started?
Book Details
File Nameat-a-strangers-mercy-by-brittany-cournoyer.epub
Original TitleAt a Stranger's Mercy (Badge and Bullets Book 1)
Creator

Brittany Cournoyer

Languageen
IdentifierMOBI-ASIN:B07PML7NMP
Date2019-03-21T16:00:00+00:00
File Size308.371 KB
Table of Content
1. Full Page Image
2. Copyright
3. Contents
4. Dedication
5. 1. Bradley
6. 2. Max
7. 3. Bradley
8. 4. Max
9. 5. Max
10. 6. Bradley
11. 7. Max
12. 8. Bradley
13. 9. Max
14. 10. Bradley
15. 11. Max
16. 12. Bradley
17. 13. Max
18. 14. Bradley
19. 15. Max
20. 16. Bradley
21. 17. Max
22. 18. Bradley
23. 19. Max
24. 20. Bradley
25. 21. Max
26. 22. Bradley
27. 23. Max
28. 24. Bradley
29. 25. Max
30. 26. Bradley
31. 27. Max
32. 28. Bradley
33. 29. Max
34. 30. Bradley
35. 31. Max
36. 32. Bradley
37. Epilogue
38. Untitled
39. Acknowledgments
40. About the Author
41. Also by Brittany Cournoyer