Assassin's Moon by Silver James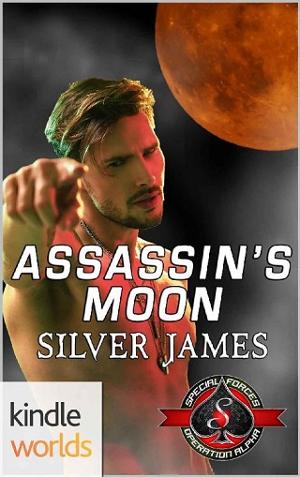 A man living in the shadows…
Wolf shifter Griffith Caine is a disgraced SpecOps sniper working in the dark of the moon as a paid assassin. When a major player offers millions to take out her competition and his family, Griff can cross his one moral line in the sand or walk away—except the woman signing the check will put him in the cross-hairs if he does.
A woman looking for daylight…
Lennox Morgan lost over a year of her life to PTSD and crippling depression. She's come to Brazil to help out at an orphanage, hoping to find herself. Instead, she finds an enigmatic man with a dark agenda and a vindictive arms dealer, yet she has a chance for more happiness than she could ever have imagined. All she has to do is survive.
From the jungles of Brazil to the playgrounds of the rich in Rio de Janeiro, these wounded warriors will fight for their lives, their love, and their future—with an assist from some very special Delta Force operatives…
Book Details
File Nameassassins-moon-by-silver-james.epub
Original TitleSpecial Forces: Operation Alpha: Assassin's Moon (Kindle Worlds Novella)
Creator

Silver James

Languageen
IdentifierMOBI-ASIN:B0756LBCRQ
Publisher

Kindle Worlds

Date2017-08-26T18:30:00+00:00
File Size165.742 KB
Table of Content
1. Chapter 1
2. Chapter 2
3. Chapter 3
4. Chapter 4
5. Chapter 5
6. Chapter 6
7. Chapter 7
8. Chapter 8
9. Chapter 9
10. Chapter 10
11. Chapter 11
12. Chapter 12
13. Chapter 13
14. Chapter 14
15. Chapter 15
16. Chapter 16
17. Chapter 17
18. Chapter 18
19. Chapter 19
20. Chapter 20
21. Chapter 21
22. Epilogue
23. Acknowledgements
24. About the Author
25. BOOK LINKS: