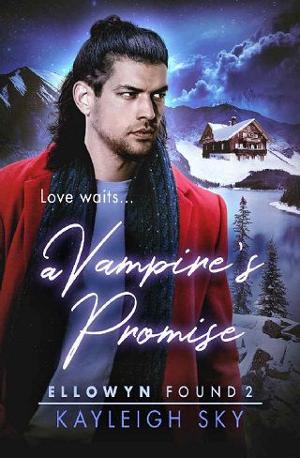 Hate consumes.
But love waits…
After Asa ran from the lover who betrayed him, he vowed revenge. Now, years later, a powerful vampire wants him to steal seven necklaces from the king of the Ellowyn—or murder him. When Asa discovers that the king is his long lost love, he stumbles into a web of secrets and dark power plays he might not escape, because Asa isn't the only one who wants the king dead.
A promise he made long ago is tearing Zeveriah apart. He's a false king, haunted by his past and despised by many of his own kind. When a new employee, who looks uncannily like his old love, appears at the royal manor, Zev thinks he's found his fated one again. But this lookalike calls himself Emek and can't hide his horror of vampires. Zev longs to woo him back, but the annual coven meeting and threats to his life demand his attention. Though he escapes a mysterious attack, one of the lesser princes isn't so lucky, and all signs point to Asa as the killer.
Now with a murderer running loose and enemies surrounding him, Zev has one last chance to save his love.
But time is running out.
Book Details
File Namea-vampires-promise-by-kayleigh-sky.epub
Original TitleA Vampire's Promise (Ellowyn Found Book 2)
Creator

Kayleigh Sky

Languageen
IdentifierMOBI-ASIN:B07V5DQ31C
Publisher

Kiss Drunk Books

Date2019-07-15T16:00:00+00:00
File Size890.439 KB
Table of Content
1. Title Page
2. Contents
3. Also by Kayleigh Sky
4. Copyright
5. The Ellowyn Royal Families
6. Cast of Characters
7. 1. The Promise
8. 2. Train Wreck
9. 3. Asa Gets Instructions
10. 4. Whispers
11. 5. The Feeding
12. 6. Nowhere Ville
13. 7. A Birthday Party
14. 8. The Cup
15. 9. Tag Along
16. 10. A Strange Smell
17. 11. A Big House
18. 12. Coffee Break
19. 13. The King's Lunch
20. 14. Something's Fishy
21. 15. Asa's Kryptonite
22. 16. The White Queen
23. 17. Zev Takes A Hike
24. 18. Asa Snoops
25. 19. Zev's Confession
26. 20. Asa Waits on Zev
27. 21. Isaac Worries Asa
28. 22. Confab
29. 23. Sudden News
30. 24. Lever
31. 25. Threats
32. 26. Settling In
33. 27. Moseying Around
34. 28. Vampires
35. 29. Zev Taunts Asa
36. 30. Arcane
37. 31. Countermove
38. 32. A Dance With Mal
39. 33. Portal
40. 34. The Cabin
41. 35. In The Dark
42. 36. Check
43. 37. Middle Game
44. 38. Oaths Of Blood
45. 39. Bloody Memories
46. 40. Dead Weight
47. 41. Locked Up
48. 42. A Fight In The Dungeon
49. 43. Isaac To The Rescue
50. 44. Game Lost
51. 45. Snowbound
52. 46. Gambit
53. 47. A Comfortable Place
54. 48. In A Bind
55. 49. Checkmate
56. 50. Game Over
57. 51. A New Game
58. 52. Taking Up The Game
59. 53. First Moves
60. Don't go yet!
61. About the Author
62. Pretty Human
63. Doll Baby
64. Trinkets
65. Angel Dork
66. Jesus Kid
67. No Luck
68. A Vampire's Heart