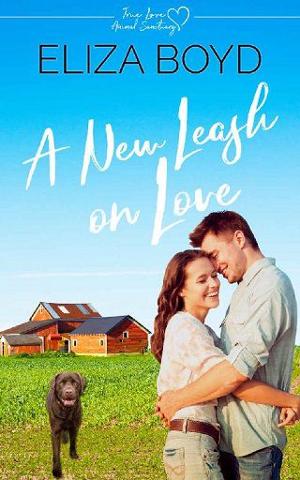 He doesn't want to lose his business.
She doesn't want to lose her sense of home.
Can they keep those things if they fall in love?
Hannah Lockhart is only in True Love to help her cousin out at her new animal sanctuary. It's thousands of miles from home, and she's ready to get back to her job. Then she and the owner of the juice bar start off on the wrong foot, which reinforces her desire to leave. Except a wrong number text turns into fun banter and shines a better light on this new town her cousin now calls home.
Luke Steiner is so worried about his dog's health that he's short-tempered with a customer. When he apologizes in person, she fires back and he ends up agreeing to spending more time with her to get her back home as soon as possible. But then a number he doesn't recognize texts him for help around town and he replies, hoping it'll brighten his awful day.
Luckily for him, it does.
Unluckily for him, he has no idea it's Hannah on the other end.
And she doesn't know it's Luke.
As their anonymous text messages become more frequent, their in-person relationship begins to soften. But Hannah's still determined to get back home, and Luke's track record with women tells him he needs to back off before he loses his business—again.
When the truth comes out, will Hannah and Luke go their separate ways? Or will the pair have a new "leash" on love?
Book Details
File Namea-new-leash-on-love-by-eliza-boyd.epub
Original TitleA New Leash on Love: A Clean Small Town Romance (True Love Animal Sanctuary Book 1)
Creator

Eliza Boyd

Languageen
IdentifierMOBI-ASIN:B07TB31T8L
Publisher

Choose Love Ink

Date2019-07-17T16:00:00+00:00
File Size332.391 KB
Table of Content
1. Title Page
2. Copyright
3. Contents
4. Also by Eliza Boyd
5. Chapter 1
6. Chapter 2
7. Chapter 3
8. Chapter 4
9. Chapter 5
10. Chapter 6
11. Chapter 7
12. Chapter 8
13. Chapter 9
14. Chapter 10
15. Chapter 11
16. Chapter 12
17. Chapter 13
18. Chapter 14
19. Chapter 15
20. Chapter 16
21. Chapter 17
22. Chapter 18
23. Chapter 19
24. Chapter 20
25. Epilogue
26. To The Reader
27. Acknowledgments
28. About the Author