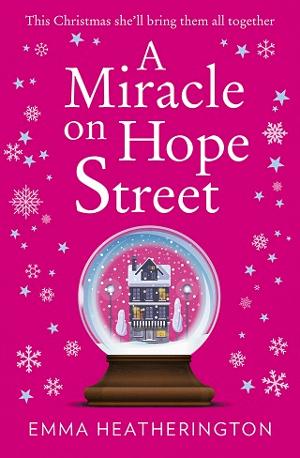 Can a single act of kindness change a life forever?
To many people Ruth Ryans has everything: the perfect job, a home to die for and a loving family. But it's all lies. As Christmas approaches, Ruth feels lonelier than ever.
Then Ruth meets Michael. A man who, on the night of her father's death the year before, she showed kindness to during his darkest moment. That one single act, his miracle, helped change his life forever.
Can one act of kindness really change a person's life? Ruth decides to find out and plans to make this Christmas the most perfect one ever, opening up her home to those who need her help – the lonely, the lost and the ignored.
Book Details
File Namea-miracle-on-hope-street-by-emma-heatherington.epub
Original TitleA Miracle on Hope Street
Creator

Emma Heatherington

Languageen
Identifierisbn:9780007568840
Publisher

HarperCollins Publishers

Date2018-08-16
File Size1.267 MB
Table of Content
1. About the Author
2. Title Page
3. Copyright
4. Dedication
5. Table of Contents
6. Chapter 1
7. Chapter 2
8. Chapter 3
9. Chapter 4
10. Chapter 5
11. Chapter 6
12. Chapter 7
13. Chapter 8
14. Chapter 9
15. Chapter 10
16. Chapter 11
17. Chapter 12
18. Chapter 13
19. Chapter 14
20. Chapter 15
21. Chapter 16
22. Chapter 17
23. Chapter 18
24. Chapter 19
25. Chapter 20
26. Chapter 21
27. Chapter 22
28. Chapter 23
29. Chapter 24
30. Chapter 25
31. Chapter 26
32. Chapter 27
33. Chapter 28
34. Chapter 29
35. Chapter 30
36. Chapter 31
37. Chapter 32
38. Epilogue
39. Acknowledgements
40. Also by Emma Heatherington
41. About HarperImpulse
42. About the Publisher