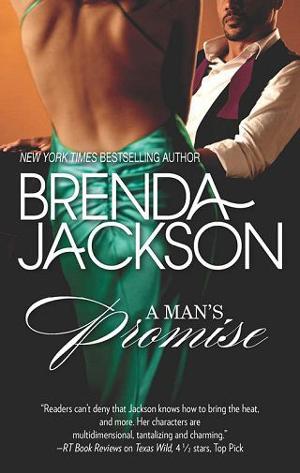 A man's word is his bond. His family is his strength. His heart is his own.
Superstar musician Caden Granger has spent years running from love, commitment and family. Yet despite his fame and fortune, he knows the kind of respect and adoration he needs can only come from one person—the very woman who wants nothing to do with him.
Corporate fund-raiser and society maven Shiloh Timmons finally got her life on track once her relationship with Caden ended, and she's in no hurry to revisit a romance with the man she left standing at the altar.
If Caden can't have Shiloh by his side, all the success in the world will mean nothing. Now he has a chance to renew his promises…but is it too late?
Book Details
File Namea-mans-promise-by-brenda-jackson.epub
Original TitleA Man's Promise
Creator

Brenda Jackson

Languageen
Identifier9781460332894
Publisher

Harlequin

Date2014-05-26T05:00:00+00:00
File Size337.313 KB
Table of Content
1. Cover
2. Back Cover Text
3. Praise
4. Booklist
5. Title Page
6. Dedication
7. Bible Verse
8. Contents
9. Prologue
10. Chapter One
11. Chapter Two
12. Chapter Three
13. Chapter Four
14. Chapter Five
15. Chapter Six
16. Chapter Seven
17. Chapter Eight
18. Chapter Nine
19. Chapter Ten
20. Chapter Eleven
21. Chapter Twelve
22. Chapter Thirteen
23. Chapter Fourteen
24. Chapter Fifteen
25. Chapter Sixteen
26. Chapter Seventeen
27. Chapter Eighteen
28. Chapter Nineteen
29. Chapter Twenty
30. Chapter Twenty-One
31. Chapter Twenty-Two
32. Chapter Twenty-Three
33. Chapter Twenty-Four
34. Chapter Twenty-Five
35. Chapter Twenty-Six
36. Chapter Twenty-Seven
37. Chapter Twenty-Eight
38. Chapter Twenty-Nine
39. Chapter Thirty
40. Chapter Thirty-One
41. Chapter Thirty-Two
42. Chapter Thirty-Three
43. Chapter Thirty-Four
44. Chapter Thirty-Five
45. Chapter Thirty-Six
46. Chapter Thirty-Seven
47. Chapter Thirty-Eight
48. Chapter Thirty-Nine
49. Chapter Forty
50. Chapter Forty-One
51. Chapter Forty-Two
52. Chapter Forty-Three
53. Excerpt
54. Copyright