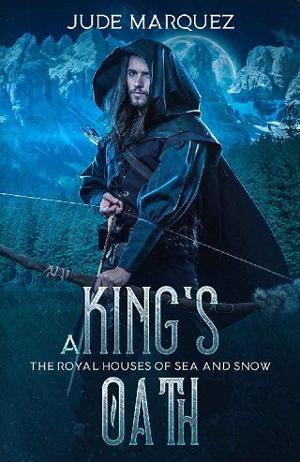 With so few allies and no clear choices, Eamon and Alik are left with only one possible chance to regain their standing.
They must leave the Ataton Kingdom and return to Grayhaven to raise an army.
For Alik, going home was the last thing he ever wanted.
For Eamon, leaving home feels like a betrayal.
But Grayhaven has more secrets and lies than either man could imagine. While they both vow to honor and obey each other, is that possible while they live in a court that thrives on lies and deceit? Will they be able to hold onto the one thing they hold dear?
And when the unthinkable happens and an unexpected visitor returns, is it a signal of hope? Or one of continued loss?
Book Details
File Namea-kings-oath-by-jude-marquez.epub
Original TitleA King's Oath: The Royal Houses of Sea and Snow: Book II
Creator

Jude Marquez

Languageen
IdentifierMOBI-ASIN:B07PHMMDMQ
Publisher

Jude Marquez

Date2019-03-03T16:00:00+00:00
File Size263.740 KB
Table of Content
1. Title Page
2. Copyright Page
3. Chapter One
4. Chapter Two
5. Chapter Three
6. Chapter Four
7. Chapter Five
8. Chapter Six
9. Chapter Seven
10. Chapter Eight
11. Chapter Nine
12. Chapter Ten
13. Chapter Eleven
14. Chapter Twelve
15. Chapter Thirteen
16. Chapter Fourteen
17. Chapter Fifteen
18. Chapter Sixteen
19. Chapter Seventeen
20. Chapter Eighteen
21. Chapter Nineteen
22. Chapter Twenty
23. Epilogue
24. Sign up for Jude Marquez's Mailing List
25. Also By Jude Marquez