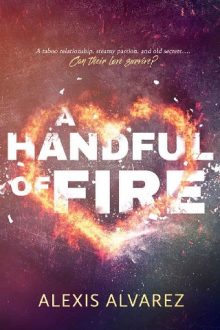 A taboo relationship…steamy passion…and secrets that can ruin everything.
Single father Gabriel Baystock is rich and powerful, educated and handsome – and helpless when it comes to ensuring his son Michael recovers fully from a childhood cancer. He'll do anything, even hire award-winning child therapist Shai Bonaventura.
Shai is drawn to brooding, sexy Gabriel, and while she falls in love with the little boy she's hired to help, she loses her heart to his father. Their powerful chemistry is off the charts hot, and Shai thinks he might be the one to help heal her own demons, even if it means crossing professional boundaries.
But when old secrets from Shai's past are revealed, it's not clear if their fragile relationship can survive the harsh reality of the real world…or whether they have the courage to fight for what they really need?
Book Details
File Namea-handful-of-fire-by-alexis-alvarez.epub
Original TitleA Handful of Fire
Creator

Alexis Alvarez

Languageen
IdentifierMOBI-ASIN:B06XT9LDHW
Publisher

Alexis Alvarez

Date2017-04-10T18:30:00+00:00
Subjectnovel
File Size782.356 KB
Table of Content
1. Title Page
2. Epigraph
3. Copyright
4. Table of Contents
5. Dedication
6. Chapter One
7. Chapter Two
8. Chapter Three
9. Chapter Four
10. Chapter Five
11. Chapter Six
12. Chapter Seven
13. Chapter Eight
14. Chapter Nine
15. Chapter Ten
16. Chapter Eleven
17. Chapter Twelve
18. Chapter Thirteen
19. Chapter Fourteen
20. Chapter Fifteen
21. Chapter Sixteen
22. Chapter Seventeen
23. Chapter Eighteen
24. Chapter Nineteen
25. Chapter Twenty
26. Chapter Twenty-One
27. Chapter Twenty-Two
28. Chapter Twenty-Three
29. Chapter Twenty-Four
30. Chapter Twenty-Five
31. Chapter Twenty-Six
32. Chapter Twenty-Seven
33. Chapter Twenty-Eight
34. Chapter Twenty-Nine
35. Chapter Thirty
36. Chapter Thirty-One
37. Chapter Thirty-Two
38. Chapter Thirty-Three
39. Chapter Thirty-Four
40. Chapter Thirty-Five
41. Chapter Thirty-Six
42. Chapter Thirty-Seven
43. Chapter Thirty-Eight
44. Chapter Thirty-Nine
45. Chapter Forty
46. Chapter Forty-One
47. Chapter Forty-Two
48. Chapter Forty-Three
49. Chapter Forty-Four
50. Chapter Forty-Five
51. Chapter Forty-Six
52. Chapter Forty-Seven
53. Chapter Forty-Eight
54. Information about Pleuropulmonary Blastoma
55. Connect with Alexis Alvarez
56. About Alexis
57. Excerpt from Casey's Choice
58. Excerpt from Boston
59. Thank You!